Panasonic Viera TC-P50U50 Plasma TV Review
$899.00
Better than
75%
of Reviewed TVs
Screen Performance
Resolution & Formats
The Panasonic TC-P50U50 supports all NTSC/ATSC formats.
Viewing Angle
The P50U50's viewing angle was much worse than comparably priced plasmas, and even a number of 2012 LEDs. A 50-inch screen is definitely big enough for a group of 3 or 4 people to watch, but with a 55-degree total viewing angle, you're not going to be able to spread out too much. The P50U50's viewing angle suffered because of how dim it is; from an angle, its blacks remained deep, but its already lilliputian peak brightness diminished substantially at just 20 degrees off center, reducing contrast by almost 60%. To put it more simply, it's just not a bright enough TV to support a wide viewing angle.
We expected a much better viewing angle than we found. For a plasma, the P50U50's viewing angle was very poor. Despite this one flaw, though it is a major selling point for plasma televisions, the P50U50 tested well during our motion and uniformity tests (below).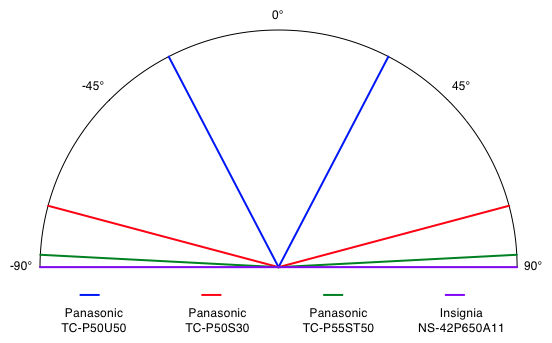 Motion Performance
The Panasonic TC-P50U50 performed very well during our motion tests. A square photograph was able to slide smoothly across the screen with no blurring or trailing; complex hatched brickwork stayed crisp, and smaller pictures of faces kept their detail and color. There was a bit of shape distortion during the moire lines test, but throughout the entire motion performance we didn't see a single artifact. While not a perfect performance, the P50U50 promises to perform well for almost any motion-based content.
Screen Uniformity
The P50U50 tested with great uniformity. We test uniformity subjectively, as its very easy to see when a TV has sudden jumps in detail between shades of dark and light. Not only were black and white rendered perfectly within the center of the screen, but the corners—the trickiest part of a TV to keep uniform—were just as consistent, with no flashlighting or gamma bleed. This would be all the more impressive if the P50U50 wasn't so dim. It just doesn't support a bright white.