Samsung PN51E8000 3D Smart Plasma HDTV Review
$2,199.00
Better than
99%
of Reviewed TVs

Tour & Design
Overall Design
The PN51E8000's bezel is ringed around with a clear acrylic fringe, and sits sturdily upon a X-shaped, metal stand. The TV swivels about 23° forward and backward. Its on-set controls are all mapped to the jog stick found beneath the bezel (just below the IR sensor), and its connectivity options are all found within the L-shaped cutout on the back of the TV.
A sensible and aesthetically sound design, in our opinion.
Front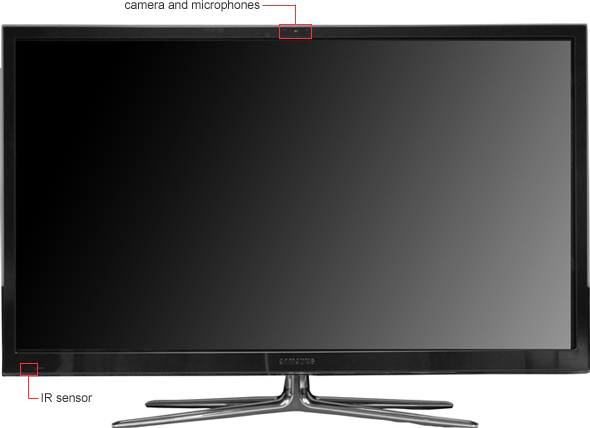 Back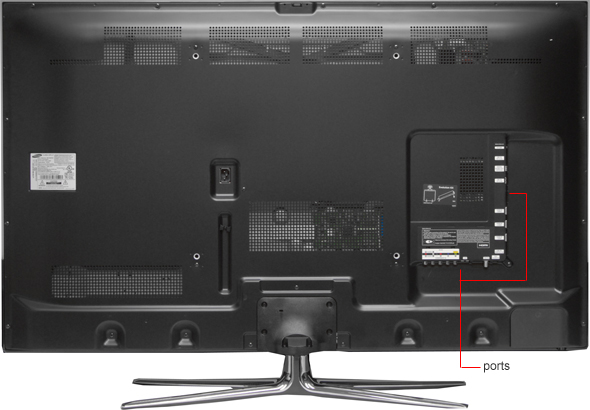 Sides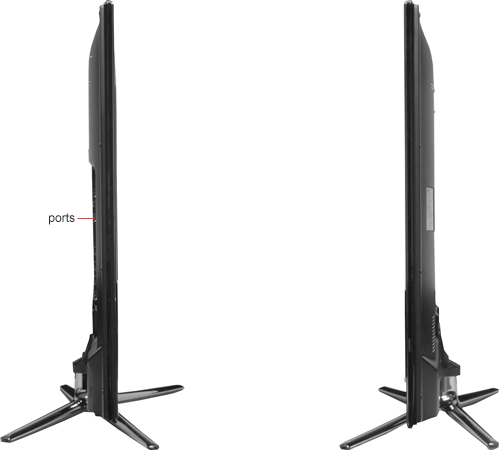 Stand/Mount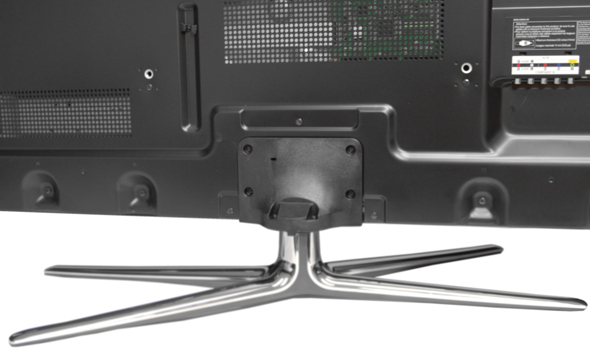 On-set Controls
So far this year, all of the Samsung TVs we've used have allocated their on-set controls to a jog stick. The jog stick is a small nub that moves in four directions, and also clicks. Clicking the jog stick will turn the TV on or off. Its left/right or back/forward functions control volume and channel, respectively. The jog stick is fairly easy to find in the dark, and it won't take you long to memorize what it does. Its drawback is mainly how limited it is. You can't manually access menus or navigate internet content with it; but then again, the E8000 comes equipped with two remotes, voice recognition, and gesture control, so we imagine extensive on-set controls would be overkill.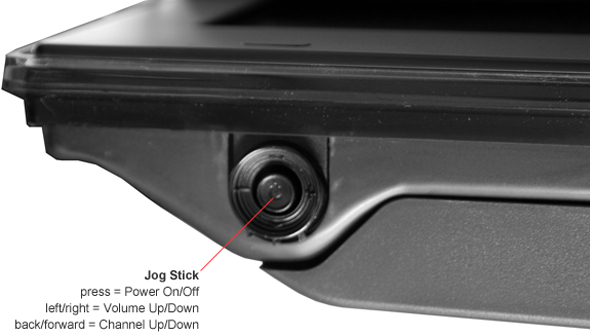 Remote Control
Like the ES8000, the E8000 series comes with two remote controls.
The first remote control is Samsung's standard infrared for 2012. It's a comfortably-sized, backlight equipped remote. Numerous single-use buttons are arranged around the navigational arrows and large volume/channel buttons, allowing for fairly easy navigation of the basic menus, AllShare media menu, and Samsung's Smart Hub--that's where the internet content is. We like this remote for basic navigation, but using it during web browsing makes one well aware of why the other remote has been included.
The second remote, new for 2012, is Samsung's unique Smart Touch remote. It's got a small, laptop style track pad for the upper half, and a handful of the most commonly required remote buttons: volume, channel, power, and the Smart Hub button, to name a few.
We've recorded a brief video detailing the Samsung Smart Remote in action, and you can also read a little more about it by clicking here.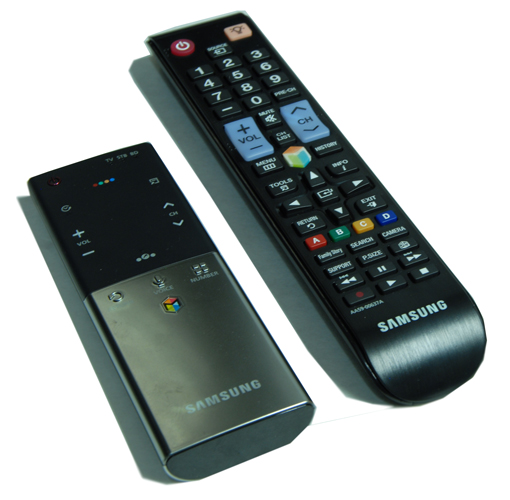 \
In the Box
In the box, you'll find the Smart Touch remote & batteries (2xAA), an IR blaster & batteries (4xAA), the standard infrared remote & batteries (2xAAA), the user manual, a cleaning cloth, warranty information, 2 pairs of 3D Active Glasses, and the TV's power cord.