Samsung UN55ES7500 3D LED HDTV Review
$3,379.00
Better than
85%
of Reviewed TVs

3D Effect
3D Effect & Experience
Samsung delivers a crisp 3D experience on the ES7500. Images are treated to the added depth that 3D brings and there will occasionally be times when images pop out of the screen.
Samsung has plenty of options to customize the 3D experience in the 3D menu, which can be found under the picture settings. You can toggle the intensity of the 3D effect in this menu and also adjust what kind of 3D mode the ES7500 is in (2D-to-3D, Side-by-Side, automatic).
Samsung's current glasses may look goofy, but they're actually very comfortable and you will forget that you are wearing them after a few minutes. Included with this TV are four pairs of 3D glasses, which is just awesome.

3D Contrast
This is one of the rare cases where the 3D contrast ratio is higher than the 2D contrast ratio. This happens because 3D glasses are essentially sunglasses: they cut the peak bright level, but they also darken the peak black level. With the UN55ES7500, the peak white level was cut to 85.13, but the peak black level was reduced to an exceptionally dark 0.03.

3D Color
The 3D color temperature on the ES7500 tends to be on the cooler side. While this is not a great color temperature to have on a TV, it did not detract from the 3D experience.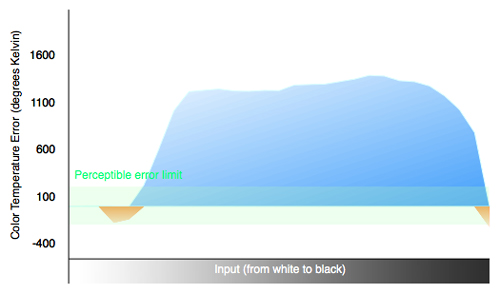 The 3D colors all get too bright too quickly, with red being the worst offender. All of the colors flatline early, which means that the colors will reach their maximum luminance before receiving a completely white input signal.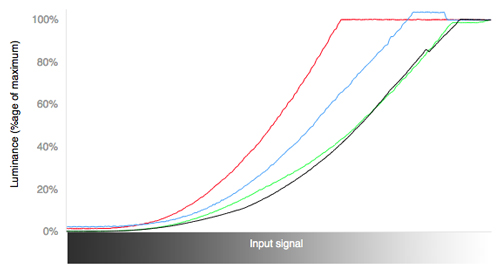 The ES7500's 3D color gamut was not that different from the 2D color gamut. The blues are a bit undersaturated and do not get as deep while the white point is slightly green.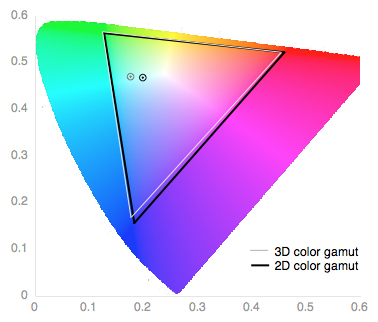 3D Crosstalk
Crosstalk, or image ghosting, is when an image intended for one eye bleeds into the image intended for the other eye. This was never seen during our 3D testing. The UN55ES7500 produced a clean 3D experience all while having a noticeable 3D effect.