Samsung UN55ES7500 3D LED HDTV Review
$3,379.00
Better than
85%
of Reviewed TVs

Apps & Internet Features
Browser
Samsung's browser is your basic TV internet browser: not very good. Websites are a chore to navigate with the basic remote and pages just don't load very quickly.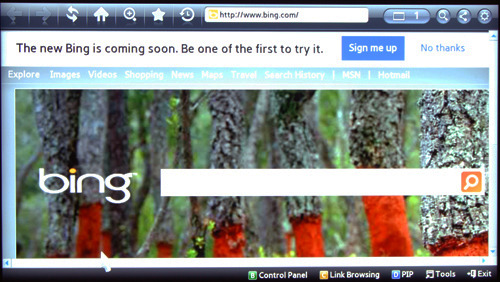 The browser experience is made much better with the addition of Samsung's Smart Touch Remote. Using the touch pad on this remote makes browsing borderline enjoyable. It is so much easier to use the touch pad, which controls a cursor on the screen, to click on links instead of using the old-fashioned remote.
Motion controls work with the browser, too. Using the browser this way is more of a gimmick; we can't see people buying this TV strictly to use hand gestures to browse the internet. It's a good way to amuse your friends, but if you seriously want to use your TV to surf the internet, stick with the Smart Touch Remote.
For an in-depth look at Samsung's browser, as well as other internet-related features, check out our overview here.
Apps
Samsung's app selection is the best in the industry right now. All of the major players like Netflix, Hulu Plus, and YouTube are present. Some other good apps that are on the Samsung app store are the ESPN ScoreCenter app, which updates you with the latest scores for sports you are interested in, and a camera app that will let you take candid pics with that fancy camera sitting at the top of the ES7500.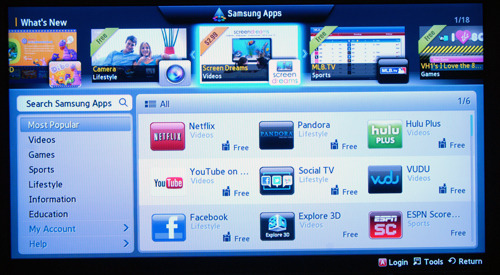 Other Internet Features
Setting up wireless and getting the internet to work on the ES7500 was a breeze. Samsung guides you through everything when you first power on the TV, plus there is some really great lounge music that plays throughout the process. Who would have thought that getting online would be so relaxing?
Other Media
The ES7500 can view pictures and movies plus listen to music via a USB drive. Once plugged in, a pop-up screen will ask what type of media you would like to view on your TV. If you want to check out your USB media later, you can press the "source" button, Samsung's version of an input button, and select the USB drive that way.