Samsung UN55ES8000 LED LCD HDTV Review
$3,749.00
Better than
78%
of Reviewed TVs

3D Effect
3D Effect & Experience
Overall, the 3D effects displayed by the UN55ES8000 were very positive. The TV has a beautiful, modern display panel, and its 3D serves to enhance that experience rather than detract from it.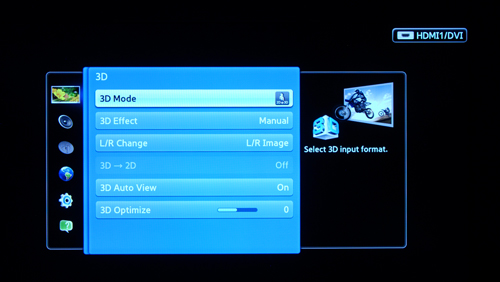 The 3D glasses that come with the ES8000 are really quite comfortable. Once they've been assembled and had their battery installed, it's fairly easy to power them on and get watching. They're lightweight, and oddly stretchy, making long-term use much more feasible. They're not the best glasses for wearing over a pair of spectacles, but it may be a few years before 3D glasses manufacturers find a way around that problem.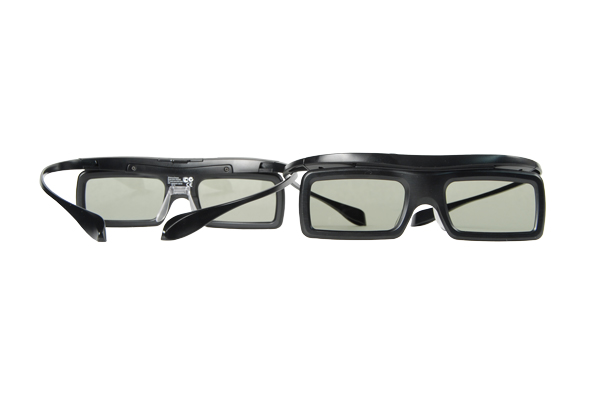 3D Contrast
As you can see from the chart below, the ES8000's impressive maximum contrast ratio is greatly reduced during 3D viewing. This is the norm, and maintaining a contrast ratio over 1000:1 during 3D viewing is quite impressive.

3D Color
We tend to expect some color temperature errors during 3D viewing. After all, the necessary glasses act as sun shades, in a way, and deplete the available light that is infused into each color. All this chart says is that you should expect screwy color temperature during 3D viewing.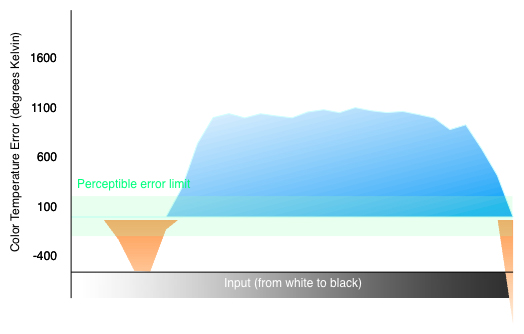 Very nice color curves considering they're 3D-based. White, red, green, and blue all peaked early. It's perhaps the case that the TV is overcompensating for the darkening effect of the 3D glasses. But still, we've seen much worse in the past.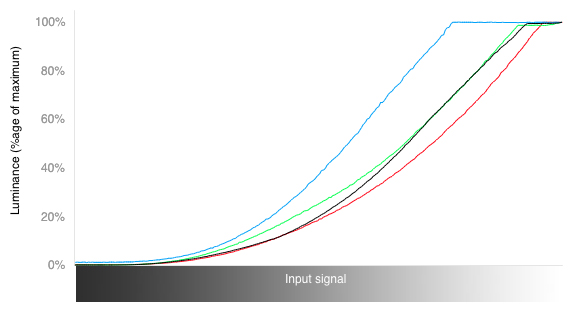 The ES8000 showed us a very nice 2D color gamut, but as we expected, it was unable to match that performance within the realm of 3D. Missing the D65 (white) point explains the errors in color temperature and the ramping up of the color curves; but compared to other 3D gamuts, this one is actually quite accurate.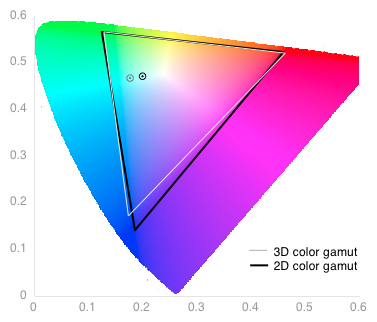 3D Crosstalk
The Samsung ES8000 scored decently on our crosstalk test; while it may not look it from the numeric score, a lot of our 3D TVs tend to score in a negative range, making a positive number carry a lot more weight. We can report subjectively that the ES8000 has very few issues with crosstalk, even during the most extreme 3D situations.