Samsung UN55ES8000 LED LCD HDTV Review
$3,749.00
Better than
78%
of Reviewed TVs

Conclusion
Conclusion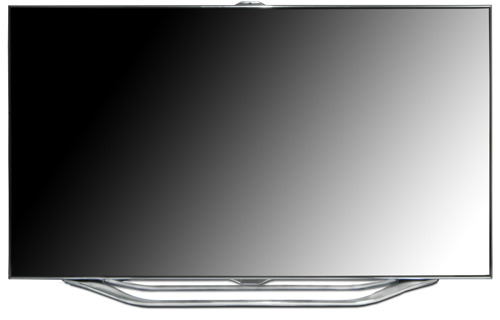 At its current MSRP of $3799, the Samsung UN55ES8000 might seem overpriced. But there are some things to consider before staking that claim.
First of all, testing the ES8000's core performance--outside of its innovative new interfacing features--yields impressive results. It's got a good handle on color and contrast, and vies for dominance with the stronger core performers of 2012. Add to that its streamlined appearance, stylish stand, and more or less invisible bezel, and you already have yourself an aesthetically and objectively sound television.
The UN55ES8000 also has a strong variety of available connection ports, built-in WiFi, a built in camera and microphones, and a beautiful edge-lit LCD display that tested with an above average motion performance--though it wasn't perfect. While the audio quality of the ES8000's speakers wasn't anything too stage-worthy, it doesn't really detract from the TV's overall value, in our opinion.
Finally, the ES8000 comes packaged with an awful lot of available internet content, which the well-organized Smart Hub presents to the user after uttering just a few words: "Hi TV! Smart Hub, yo." (_Yo_ is optional). Feeling a little unsure as to the effectiveness of the ES8000's voice- and motion-controls? We'd definitely recommend getting a hands-on look at its performance in these categories by checking out some of the videos over at our Samsung's 2012 Smart TV Platform article before buying; the engineers we met with advised about a learning curve phase. We imagine differentiation between whether these are useful features or marketing gimmicks will depend on the user and their interaction with their TV (ours is quite obedient).
It's not much improved from Microsoft's Xbox 360 Kinect device, and in some ways is not as powerful. But everything else about the TV works perfectly, and it's got the core power (dual-core, actually) to meet our high standards, hands down.
We'd recommend checking out our hands-on videos before considering purchase. But we do recommend considering purchase; if you've got the cash and want to get a jump on Samsung's 2012 flagship, we think you'll be quite pleased with this TV, no matter how you interact with it.