Samsung UN55ES8000 LED LCD HDTV Review
$3,749.00
Better than
78%
of Reviewed TVs

Connectivity
Connectivity
On the back of the ES8000, you'll find a decent selection of ports to choose from. Like many Samsungs before it, the ES8000 takes advantage of component/composite AV splitters to streamline its available port space. The ports you'll likely be accessing the most--HDMI and USB--are located along the side of the ES8000's L-shaped port area. There's also a single input jack for a composite AV splitter, which comes with the TV.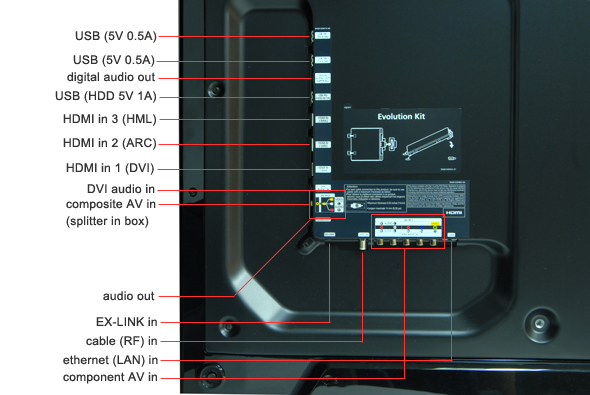 Along with 3 USB and 3 HDMI ports, users will find horizontally-inclined ports for analog audio out, DVI audio in, and the split composite AV input mentioned above. It's generally assumed that audio ports, HDMI and USB inputs, and composite jacks will get the most traffic, which explains their placement.
Along the underside of this L-shaped cutout, the ES8000 has input ports for a service update (EX-LINK), cable (RF) in, a full component AV input, and a LAN (ethernet) input. In contrast with the side-placed ports, these vertically inclined inputs are less likely to need as much changing/fine tuning, and are placed more out of the way for this reason.
While this amount of available ports isn't anything we'd call staggering, it's a lot more flexibility than you'd get from a low-end or even a mid-range model.