Sharp Elite PRO-60X5FD Review Archive
$5,999.00
Better than
92%
of Reviewed TVs

Apps & Internet Features
Apps
In regards to apps and internet content, Sharp cuts right to the chase: this is a TV meant for watching content, not browsing the internet or playing horrible Flash games.
There is no hub or portal for smart content, only the "apps" button on the remote. Pressing this button brings up a panel on the left-side of the TV that has access to all of the apps available. In the order that these apps are presented, we have Vudu, YouTube, CinemaNow, Netflix, and Skype—those are all of the apps available. In addition to these five, there are icons for Sharp's Elite Advantage warranty service, USB media, and accessing files via DLNA.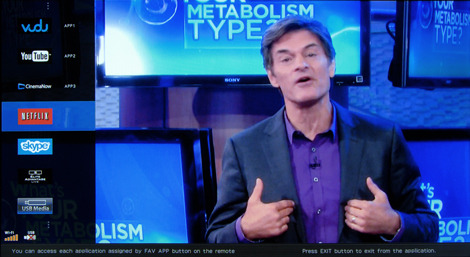 The most important app that the Elite has is Netflix because of its wide range of movies and TV shows. Unfortunately, it is also the only good app. The YouTube app, which is the same one most smart TVs have, is almost useless because a lot of copyrighted content is omitted.
Vudu brings together a lot of streaming content, but unless you enjoy streaming episodes of the Today show or G4's X-Play, you can skip it. CinemaNow is a movie streaming service which allows one-time rentals or purchases of new releases. The selection isn't nearly as good as Netflix, but we did notice that Beverly Hills Chihuahua 3 just came in.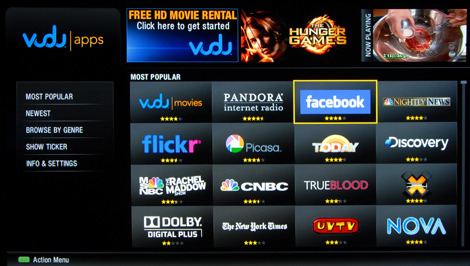 The real oddball inclusion is Skype. We assume video calling is available on this—we were not able to log in with our Skype credentials, but a webcam for this TV does exist.
Other Media
Media can be accessed by a USB drive on the Elite PRO-X5FD. Music, pictures, and videos can be found on the exact same interface that "normal" Sharp TVs have. While not pretty, this interface gets the job done and provides easy access to your precious media files.