Sharp Elite PRO-60X5FD Review Archive
$5,999.00
Better than
92%
of Reviewed TVs

Conclusion
Conclusion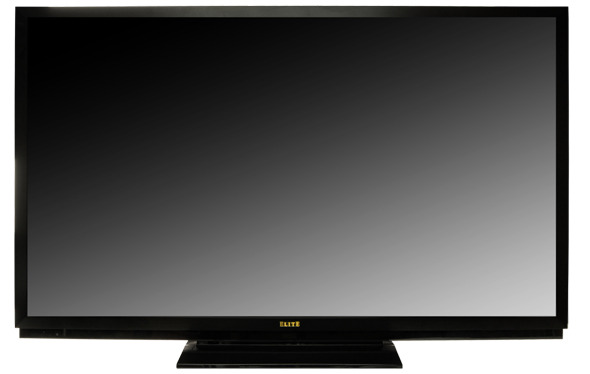 When reviewing the Sharp Elite PRO-60X5FD (MSRP $5,999), we had some lofty expectations based on the price and the licensing of Pioneer's "Elite" moniker. Did this Sharp live up to these expectations? That's hard to say.
With a TV that costs $5,999 and licenses the name of a fabled television of yore, you would expect a "perfect picture." Unfortunately, the definition of a perfect picture isn't set in stone. Some say that contrast—the ratio of how dark a TV gets versus how bright it gets—is the most important factor in having a perfect picture. Using the Elite Pure settings, which emulates the picture of the Pioneer Kuro Elite plasma TVs, we saw one of the best contrast ratios we have ever seen.
We think that color accuracy and consistency is the determining factor in having a perfect picture. Using our calibration methods, the Elite was able to produce excellent colors. The range of colors we saw was very good, although not flawless. The way that this TV shows those colors, as in how smoothly it transitioned from different shades, was superb.
Sharp's biggest failure with the Elite PRO-X5FD is that it doesn't blow away the competition. As good as the colors were, and as good as the contrast could get, most consumers wouldn't be able to tell the difference between these results and the excellent results from two of our top-rated TVs: the Samsung E8000 and the Panasonic VT50. Those TVs cost thousands of dollars less than the Elite, which makes justifying its cost hard to do.
We don't want anyone thinking that this TV is bad—it's actually very good. No matter what calibration mode we used, there was no real fault with the Elite, aside from mediocre 3D. The audio was among the best we've heard from a television, there were plenty of connections on its backside, and the design is stunning. The included Elite Advantage service is also top-notch. Unfortunately, this doesn't add up to $5,999.
After getting out of the TV business, Pioneer sold their plasma technology patents to Panasonic. It has been rumored that the VT50, a television that scored very highly in our tests, makes use of those patents. Was the VT50 the television that Sharp should have made? Who are we to say? For what it's worth, the Sharp Elite PRO-X5FD is a solid TV that has cemented its own place in television history.