Sharp Elite PRO-60X5FD Review Archive
$5,999.00
Better than
92%
of Reviewed TVs

Connectivity
Connectivity
The main attraction on the backside of the Elite PRO-X5FD is the column of five HDMI ports. What this means for consumers is that you can now connect a cable box, two HD video game consoles, a 3D Blu-ray player, and a computer...at the same time!
In addition to the five high-def ports (right-side if looking from the back, left-side if viewing from the front), there is an audio output, a USB port, a VGA input, an RS-232C port (for home automation), a component input, and two dedicated composite inputs. Why there is an additional standard definition composite input instead of another HD component input is baffling to us.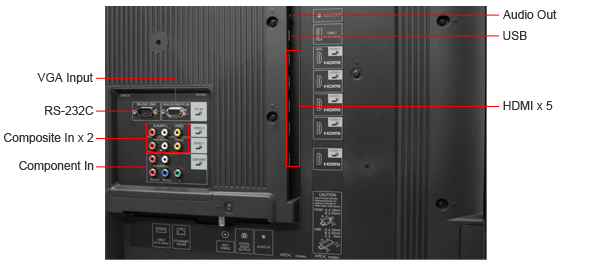 There are some additional connections that are facing down, including another USB port, an ethernet jack, an antenna input, an audio input, and an S/PDIF (digital audio) output.
Everything was easy to access, even though the Elite PRO-X5FD does not swivel. The wealth of ports available on this TV practically begs consumers to watch something on it.