Sharp Elite PRO-60X5FD Review Archive
$5,999.00
Better than
92%
of Reviewed TVs

Screen Performance
Resolution & Formats
The Sharp Elite PRO-X5FD series has a native resolution of 1080p and can display all standard NTSC formats.
Viewing Angle
With our calibration methods, we did not get as dark of an image as the Elite Pure settings were able to produce. This was noticeable with the viewing angle: our calibration yielded a total viewing angle of 63°, which is good for a TV with an LCD screen.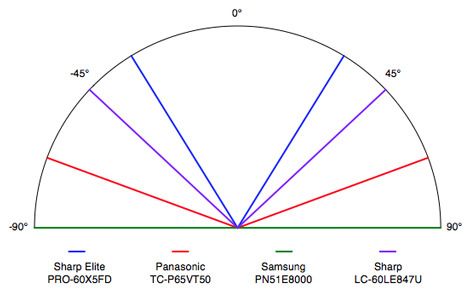 The Elite Pure settings were able to produce a much better total viewing angle of 107°, which is more like the viewing angles produced by plasma TVs. With these settings, the Elite PRO-X5FD was able to keep black images dark at increasingly wide angles.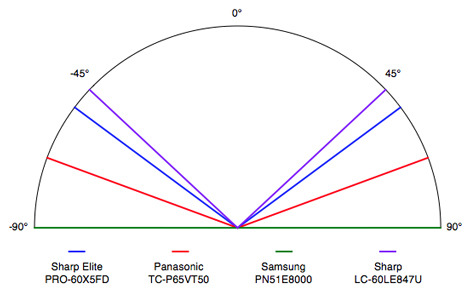 Motion Performance
The Elite PRO-X5FD enjoyed decent motion performance. The difference between the two calibration modes was that we do not use any motion processing features while the Elite Pure mode uses the FluidMotion setting, which gives movies a noticeable dose of the Soap Opera Effect. This was clearly visible while watching the movie Selena: scenes where Jennifer Lopez is dancing appear unnervingly smooth.
With motion processing turned off, we noticed that fast moving images produced noticeable blur and straight lines appeared slightly jagged when moving across the screen, but these were not problematic when watching actual movies.
Screen Uniformity
Both calibration settings produced a perfect screen uniformity. An all-white image on the screen produced a smooth result: there was no shadowing in the corners and brightness was consistent on all parts of the screen.
An all black image was a different story, and we mean different in a good way. With our calibration settings, we achieved a black level of 0.09 cd/m2 on a 90% black screen. This result is decent, but not groundbreaking. Making the screen completely black, meaning that no white shows up, produced one of the darkest screens we have ever seen. We made sure that there was no auto-dimming at play here—there wasn't. We then pressed the mute button, which brought up the mute symbol on this sea of blackness, showing us that yes, the screen was on and yes, the Elite PRO-X5FD can get seriously dark.
Results were the same for the Elite Pure settings.