Sharp Elite PRO-60X5FD Review Archive
$5,999.00
Better than
92%
of Reviewed TVs

Software & Interface
Menu Interface
Pressing the menu button on the kingly remote that comes with the Elite PRO-X5FD brings up a panel on the left-side of the screen. This panel features six menu categories:
| Menu Category | | Description |

| Picture Settings | | Change picture modes and adjust picture settings. |

| Audio Settings | | Change audio modes and adjust audio settings. |

| Power Control | | Toggle power-saving options. |

| System Options | | Adjust specific menu options. |

| Initial Setup | | Change settings that were made during the TV's initial setup. |

| Information | | Shows the current software version and allows the user to update it. |
We like the simple approach to menu design that Sharp used for the Elite PRO-X5FD. The grey menu panel gives the appearance of brushed metal, adding to the Elite's handsome nature.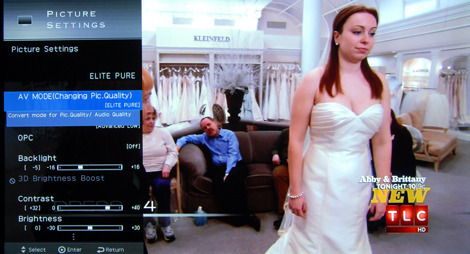 Going into the picture settings menu, users will find a wide range of settings to tweak, including adjustments for how saturated you want each color (red, yellow, green, cyan, blue, and magenta). Some of these settings are overkill—they are features that many consumers will never touch. The Elite PRO-X5FD isn't your average television, though, so it is nice to see that Sharp is indulging the TV intelligentsia.
Other Interface Features
Would you expect anything less than stellar customer support from a TV you just spent $5,999 on? The Elite PRO-X5FD delivers on this expectation with the wonderful Elite Advantage service.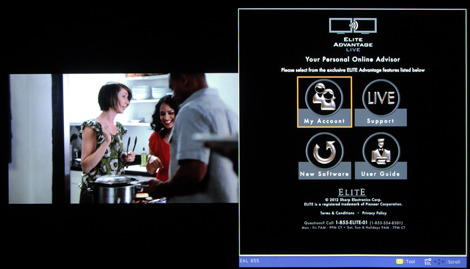 Opening the Elite Advantage app will bring up a screen that has four selections, one of them being "support." By clicking on support with your remote, you will eventually be given a four-digit connection number and instructions to call Sharp's Elite Advantage phone line. We tested this out and waited for about seven minutes until we were connected with a Sharp technician.
By giving these technicians the four-digit connection number from earlier, they can adjust settings remotely and check to see if any errors are showing up on the Elite PRO-X5FD. While they are controlling your TV, your remote will be disabled so as not to interfere with their adjustments. We were told that this service is for helping owners with problems on their Elite and is not intended to be a calibration service. We were impressed by what we saw.
Instruction Manual
Sharp packages their user manual better than any company we've seen. The handsome black user manual, which feels more like a car's operating manual, comes in a black box with the Elite label printed in gold.
The actual insides of the manual are nothing to laugh at: information is organized by a table of contents and almost any question we had about this TV could be answered by this manual. One thing that it does not include is a detailed description of each picture mode, but aside from that caveat, we were happy with the Elite's manual.