Sony Bravia XBR-55HX950 HDTV Review
$3,499.00
Better than
89%
of Reviewed TVs
Screen Performance
Resolution & Formats
The Sony Bravia XBR-55HX950 has a native resolution of 1080p and displays all standard NTSC formats.
Viewing Angle
The total viewing angle of 23° on the HX950 was pretty dismal, especially compared to the competition. The flagship LED TVs from Samsung and LG smoked Sony's top-of-the-line, while even the Sony HX850 performed better.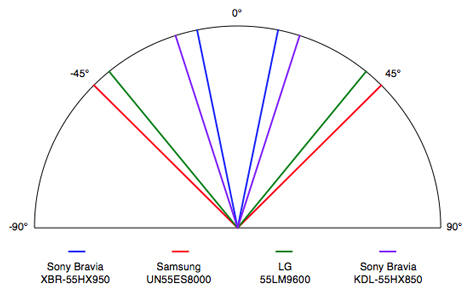 Motion Performance
Motion performance was good on the HX950. We didn't notice too much artifacting while testing motion: Quickly moving images showed some slight blurriness and lines became slightly jagged, but nothing was drastic enough to ruin a movie or football game. Interlacing, which is when colors trail behind an image, was not present at all.
Sony includes a few motion processing options and they all produce a jarring Soap Opera Effect. We would recommend turning this option off, unless you are watching video footage—motion processing can help out in that department.
There is an option on the HX950 called Reality Creation, although what it does is not clearly explained. According to the option itself in the picture menu, it "adjusts fineness and noise for [a] realistic picture," but after turning it on and off multiple times, we didn't notice a change in the picture.
Screen Uniformity
Television enthusiasts who love large contrast ratios enjoy talking about screen uniformity—this is where you see those deep blacks and bright whites put to work. The Sony Bravia HX950 had a very good contrast ratio, but it did not have the deepest blacks. This is visible with a completely black image on the screen: The picture looks blotchy and bright spots are visible throughout. Even though a completely white image looks flawless, having the screen completely black yet still able to illuminate a dark room is disappointing.
Sony included a feature they call LED Dynamic Control, which is known as local dimming in the real world. What exactly is local dimming? The HX950 has a full array of LED backlights—the backlights are arranged in a grid behind the screen instead of just along the edges—and can have certain "zones" of LEDs light up, dim, or shut off, depending on the content. We were able to count a total of 105 zones on the HX950. Here is an example of how this feature works: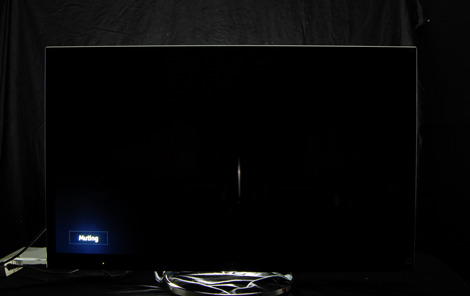 With local dimming on, a completely black image on this TV means that all of the LED backlights are turned off. We took this picture after pressing the mute button. The result is that the bottom-left corner, where it says "muting," is illuminated, but the rest of the TV looks like it is turned off. This effect is absolutely terrific for most of the screen, but as you can see by this image, there is an annoying halo of light around the word "muting." This is the major drawback of local dimming.
The effect that local dimming produces is very similar to how plasma TVs function—they do not have backlights, but instead have cells that individually light up. This means that plasma TVs can light up specific zones without the aid of fancy technology. That's not to say that we don't like this feature—it's actually quite good for most scenarios. For the purpose of keeping our reviews standardized, we did not test the HX950 with local dimming on. If you decide to spend the asking price of $3,499 on this TV, we would recommend using this feature.