Toshiba 47L7200U LCD HDTV Review
$1,899.00
Better than
76%
of Reviewed TVs

3D Effect
3D Effect & Experience
We feel that, overall, Toshiba's done an alright job implementing 3D into the L7200U Cinema Series. We always appreciate included glasses--as uncomfortable as these particular glasses are--and a solid 2D to 3D converter is a nice way to make use of your free glasses and 3D technology without investing in a 3D Blu-ray player or 3D Blu-ray discs. We don't recommend that you do that, by the way, as native 3D isn't very convincing. The immersion is broken by considerable crosstalk, despite the solid contrast/color that the L7200U maintains during 3D showings.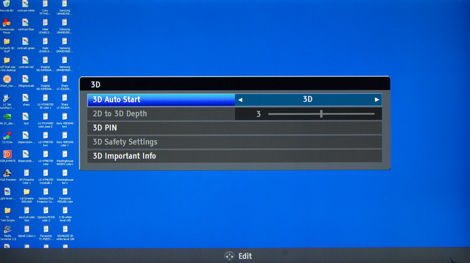 Toshiba really needs to take a page out of LG's book where glasses design is concerned. We tend to prefer passive 3D glasses for their ease of use/setup, but also tend to prefer leaving our snooty, high-brow nasions intact; Toshiba's stiff 3D glasses lack any kind of padding or comfort wall between you and their unforgiving frame, and seem to prefer otherwise.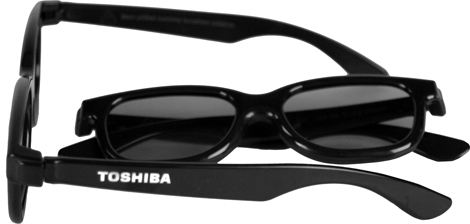 3D Contrast
As you can see from the chart below, the L7200U's maximum contrast ratio is more or less halved during 3D viewing. You can expect this to cut down on total viewing angle and on the crispness of differentiation between black and white, but it's to be expected when you're watching TV, and wearing what's really just a fancy pair of sunglasses, while doing so.

3D Color
We were very surprised here, as the Toshiba 47L7200U may be one of the only TVs we've ever tested to have less visible color temperature error during 3D content than during normal 2D viewing. As you can see from the chart, there's very little color temperature error overall, and just a touch of visible deviance from the 6500° K standard.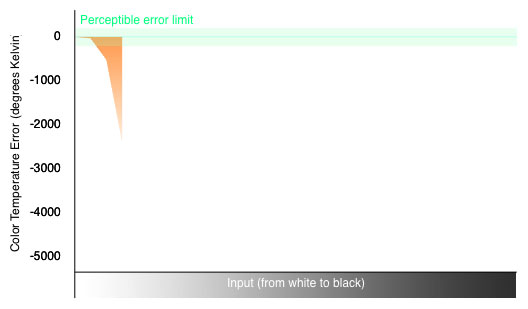 These curves are choppy when they're ramping normally, and when they're smooth, they're ramping too quickly or too slowly. Any way you cut it, your sRGB curves get royally skewed during 3D viewing. We sort of expect this--it'll probably be a few years before 3D technology doesn't wreck your color production--but it's still a shame to see it in action.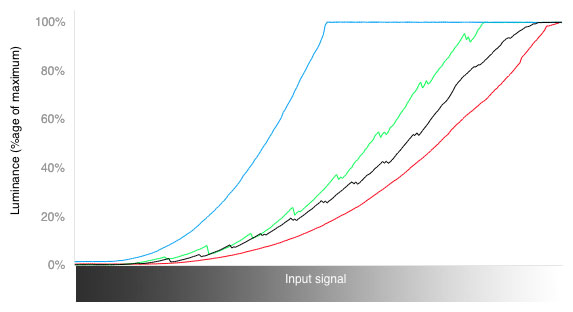 Like its 2D color gamut, the 3D gamut is actually very accurate (for a 3D gamut). Even its white point didn't miss too badly--though to be fair, the 2D white point was also off the mark. Overall, this is a good showing for a 3D color gamut, and a good reason to indulge in some 3D content.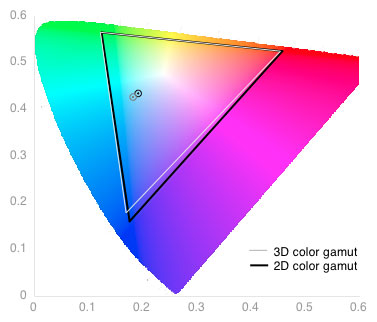 3D Crosstalk
Maybe we're just spoiled by LG and Samsung, but we felt the crosstalk problems exhibited in this Toshiba's full/native 3D viewing were unacceptable. As usual, more subtle 3D effects were perfectly fine, but the "pop-out" kind made us want to switch back into 2D viewing.
It wasn't terrible, but 2012 has set us up to expect more out of TVs in terms of crosstalk, or rather, lack thereof. Some of this may be related to the flat, inflexible lenses on the glasses. The human eye follows a steady curve, and Toshiba's glasses really only convince the front 30% of the pupil--if we had to guess, we'd attribute a lot of the crosstalk problems to the glasses, as our objective crosstalk test revealed that the TV itself is actually above average where crosstalk is concerned.